The CRISPR patent landscape keeps on developing with now an average of two new patent publications every day. We have now searched, reviewed and categorized 1198 patent families in our February 2016 CRISPR patent analytics data set. The recent conclusions by the USPTO on the CRISPR pioneering patent interference has received significant media attention and finally confirmed the diversity of the CRISPR licensing landscape. We have provided our 2017 key findings to a number of analysts in the field, and are working hard to keep on extracting and sorting meaningful CRISPR patent coverage information for our customers on a monthly basis.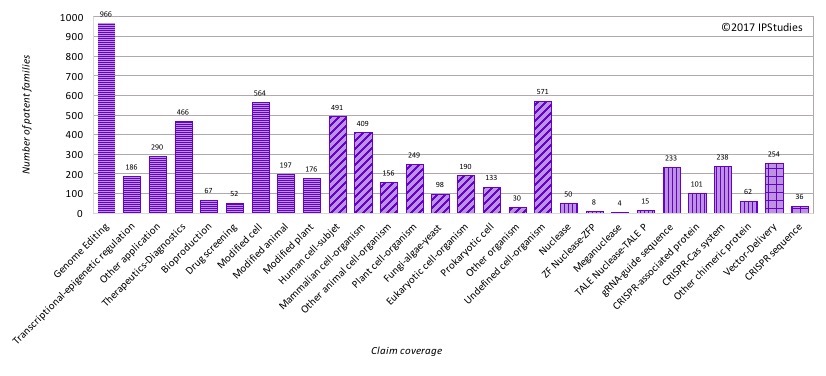 On 15 February, the USPTO determined that there was no interference between the Broad Zhang's invention and the University of California Doudna and Charpentier invention, and the Broad patents will stand. The USPTO decision has impacted the stock value of the three pioneering CRISPR IPOs, in favor of Editas ($EDIT) licensee of the Broad, giving some indirect insights on related core licensing valuation, as compiled by Prof. Jakok Sherkow for Forbes.
As recently analyzed by Heidi Ledford in Nature news, the USPTO non-interference decision is not the end of the CRISPR patent story. There are more and more CRISPR patents and licensing deals extending beyond the pioneering patents, and emerging efforts to design around some of the early Cas9 claims can be seen in the patent data as well as the licensing announcements. Early February, MPEG-LA presented their CRISPR patent pool initiative to the AIPLA. And the fivefold increase in genome-editing bioenterprise investment as observed just for 2016 is not slowing down.
On the investment side, however, concerns are also now raising that Europe may be outpaced in the CRISPR race – at least as far as the patent data shows, as can be seen from our findings on the top applicants worldwide, in which only French incorporated biotech Cellectis (EPA: ALCLS and NASDAQ:CLLS) has secured a significant position.
You can order online your copy of our 2017 CRISPR patent analytics report including database access to the whole, historical, classified CRISPR patent landscape data so you can browse and focus on the specifics of your technology and application interests. You may also subscribe to monthly CRISPR patent database updates, thanks to our new partnership with Centredoc, the Swiss watch industry knowledge management cooperative. Download our CRISPR patent landscape sample, contact us for a video demo of the database functionality or visit our 2017 CRISPR patent analytics report to learn more!