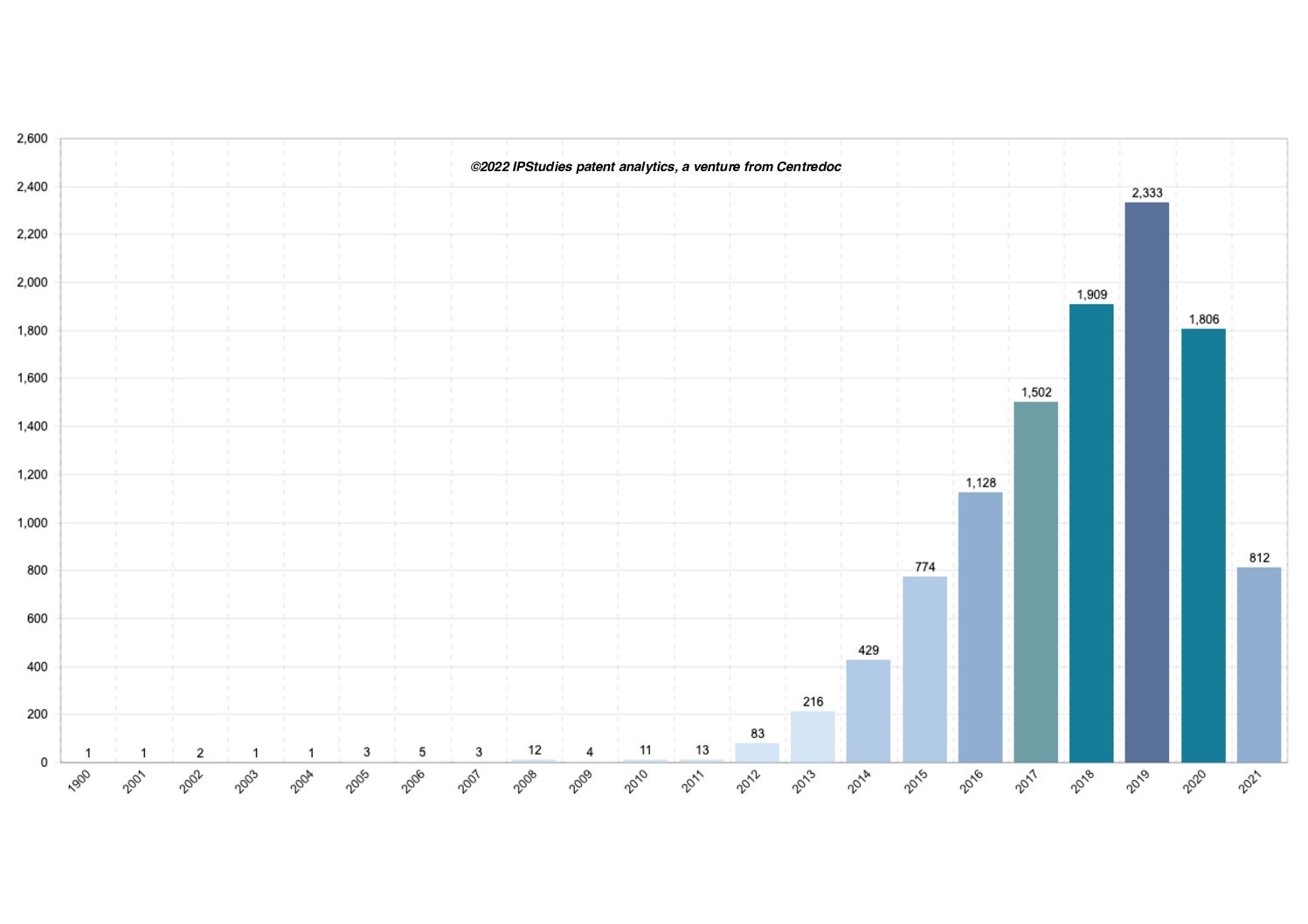 IPStudies CRISPR patent analytics data have been used by worldwide Fortune 500 companies, biotech ventures, patent law firms, public organizations, and research institutes in Europe, America and Asia since the first launch of a worldwide CRISPR patent landscape of 90 patent families in 2014. In the past 6 years, our experts have built a unique knowledge of the CRISPR technology patenting by monthly collecting, analyzing and categorizing a total of 11000+ patent families and 270+ licensing agreements (source: IPStudies December 2021 monthly update). Our unique, independent CRISPR patent analytics findings have been cited by Nature, The Scientist, Quartz, Bloomberg, Fortune and the WIPO magazine, among others.
In the past couple of years, the CRISPR technology development has transitioned from R&D into maturity stage according to a number of patent analytics indicators:
With a regular increase of more than 200 patent families published every month, we see a burst in CRISPR application patents, in particular from China, in all fields ranging from agriculture to therapeutics (see our recent review of the CRISPR patent landscape in the CRISPR Journal special issue on China here).
On the technology side, we have compiled a list of more than 100 variants of CRISPR enzymes beyond the best known Cas9 discovery of 2012, with some commercial players trying to exhaustively claim them to secure as broad an IP exclusivity as possible. The different flavors of RNA guides engineered by multiple research teams worldwide make the navigation into the CRISPR system technology landscape even more complex.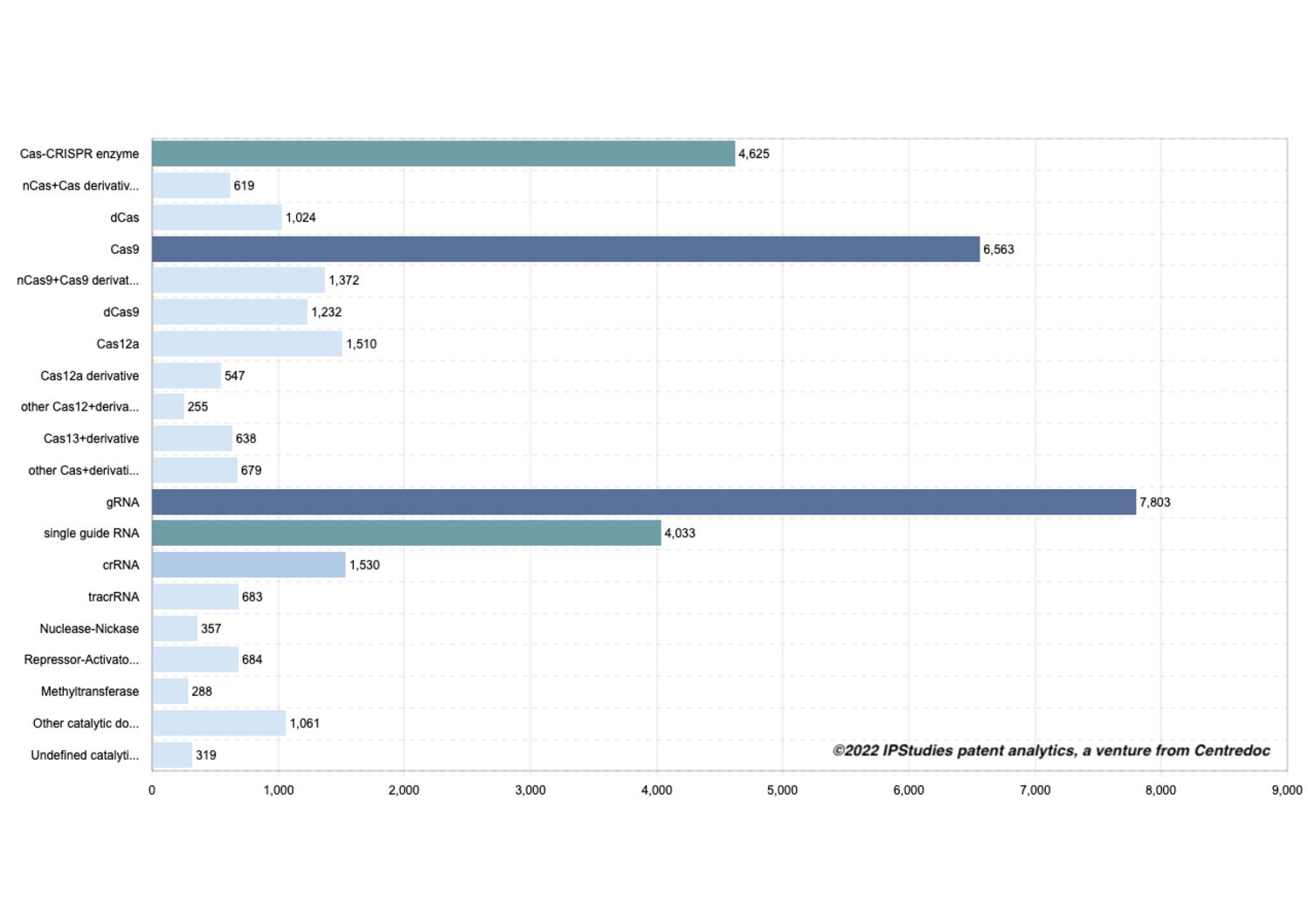 The licensing landscape is also developing faster, with more than 270 deals publicly announced since 2014. In particular, we observed a major increase in the therapeutic market in the past couple of years, a good indicator that the technology is also maturing for human use, in line with the development of clinical trials worldwide (and also some COVID-19 related applications, as developed since the early days of 2020).
We supply our CRISPR IP analytics data to a number of patent law firms and Fortune 500 corporate patent information analysts so that they can easily cross-check and integrate it in their internal analyses. We offer a one-time delivery or a semestrial or yearly subscription to our monthly updates, for the patent data and/or the licensing data. With the acquisition of the patent analytics assets and operations from IPStudies by CENTREDOC in January 2022, IPStudies customers can now benefit from the latest advances in patent multi-categorization and multi-source feeds as developed by Centredoc with the breakthrough RAPID5 patent monitoring suite. In addition, to better fit the increasing needs of our customers to focus on specific areas of the complex CRISPR patent landscape, the Centredoc team of patent information and scientific experts can also provide you with custom consultancy services such as dedicated trainings and data zooms to facilitate your orientation in both the large patent landscape and its companion complex licensing landscape. Examples of zooms are per application (e.g. microorganisms, agriculture), per region (e.g. China) or per technology (e.g. cpf1, base editing technologies). Do not hesitate to contact us for more information.