Start by downloading our CRISPR Patent Landscape_Sample!
The number of patent applications in the field of CRISPR genome engineering increases every month, covering a diversity of biotechnology applications. Monitoring them to extract the specific ones of relevance to your specific needs is time-consuming and you prefer your experts to focus in developing your own IP portfolio (or that of your customers, if you are a patent law firm practitioner) rather than analyzing the full, complex CRISPR landscape. Still, you need to understand the prior art for optimally positioning your own claims, and/or define your licensing strategy.
At IPStudies we have been serving our CRISPR patent analytics expertise to a diversity of customers in Europe, America and Asia since our first launch of a worldwide CRISPR patent landscape in 2014. In the past 4 years, we have built a unique knowledge of the CRISPR technology patenting by collecting, analyzing and categorizing 2500+ patent families and 70+ licensing agreements. Over the past couple of years, our unique, independent CRISPR patent analytics findings have been cited by Nature, The Scientist, Quartz, Bloomberg, Fortune and the WIPO magazine, among others.
To facilitate your own positioning in the CRISPR patent landscape, we offer our pre-classified CRISPR patent landscape:
– PDF report of 100+ slides
– Global trends (main applicants, temporal distribution of patent filings, citations…)
– Excel table listing of 70+ licensing deals and related announcements since 2013
Our offer also comprises a private access to the CRISPR patent database dedicated to your organization, so you can further browse and search the latest data (currently more than 2200 patent families), with the following features:
– Intuitive patent information classification by (applications, cells/organisms to be modified, molecular tools), CRISPR system components and chimeric proteins.
– Patent titles and abstracts translations into English, irrespective of the original publication language.
– Additional information in your preferred format (Excel listing exports, legal status).
– No setting up or configuration necessary; all you need is an internet connection.
– Hyperlinks to the Espacenet database for worldwide patent family status review, non English translation etc.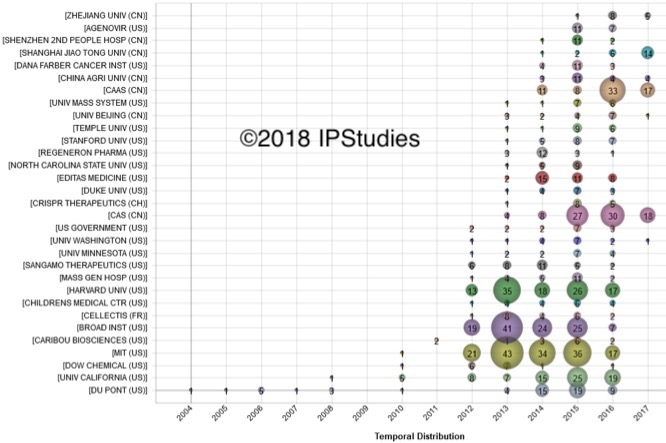 We also offer a monthly, subscription-based CRISPR patent monitoring service for new patent publications claiming the use of the CRISPR technology, worldwide at a competitive pricing, starting at EUR 500 per month.
Since 2014, we have served our independent CRISPR patent analytics data to worldwide Fortune 500 companies, biotech ventures, patent law firms, public organizations, and research institutes. Would you like to join them and access the most complete, worldwide CRISPR patent analytics information data set? Would you like a short online demo of the CRISPR patent database and patent monitoring functionality? Please contact us today for more information!
For customers preferring to place an order by credit card, you can purchase our CRISPR patent landscape products online using the Paypal button below.