IPStudies brings you its expertise in strategic IP management at the time when you need it, when key IPR questions are raised to better valuate your product and/or your company.
How serious is the aggressive "patent-pending technology" strategic marketing of your competitor? how can this impact your business, and what can you do to overcome this threat?
 How are positioned against your competitors in terms of IPR? how can you optimize this position to increase your company valuation?
 Are your technology knowledge assets identified, formalized and protected to ensure long-term differentiation and valuation for your company or your product, in line with your vision and plans?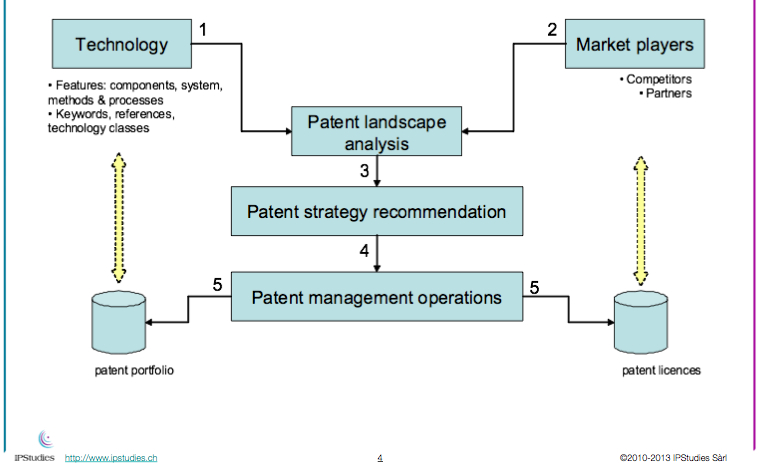 When facing those questions, large companies benefit from internal patent experts to assist their business units managers in assessing and optimizing the relevant industrial property protection and valuation for their products:
–  freedom to operate studies and design-around recommendations;
–  technology watch, prior art searches and patent oppositions against competitors;
–  definition of patent portfolio development and maintenance priorities under a constrained budget for internal or external patent attorneys;
–  identification of valuation opportunities such as transferring or licensing technologies in non core markets.
Larger companies also face the need for independent patent valuation expertise at key milestones in their corporate development:
  –  in merger & acquisitions, to audit, optimize and valuate patent portfolios, patent management operations, technology transfers and overall product IPR protection;
  –  in strategic planning activities – did you know that patenting activity analysis anticipates product lifecycle transitions according to recent economics research works?
Thanks to our experience, professional tools and network, we can quickly analyze your IPR positioning and propose various optimizations in line with your vision and strategy. Our services start from a simple half-day consultancy to already help you get a different look at your IP development and acquire a number of tips and tricks to better drive it on your own in the future.